The Electron Controls CAN Gateway can bridge two Controller Area Network interfaces, allowing message data to be transferred from one CAN bus to the other.  
Each of the two CAN controllers can be configured and run independently, which allows different CAN protocols to be connected and data to be passed between them both.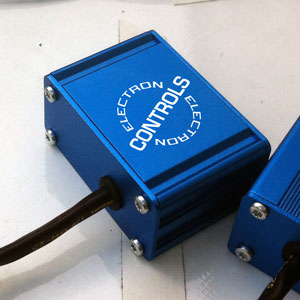 The CAN Gateway is housed in a compact enclosure (2.5 x 1.6 x 1.2 inches) for easy installation.
Typical Application: The CAN Gateway transfers RX-8 ABS wheel speed data from the vehicle's 500k CAN bus to the Motec dashboard running a 1000k CAN bus required by the Bosch Motorsport ECU the vehicle is required to run. Passing the data to the dashboard allows for an improved vehicle speed reference, accurate pit speed limiter operation in any gear, predictive lap timing, and wheel slip calculations.
Design services are available to fit many installations.

Each gateway also contains several input and output options for interfacing real-world signals.

Standard CAN bus compatibility:
• ISO-11898 standard physical layer
• Supports 250k, 500k, and 1000k bit rates
• Supports CAN1.2, CAN 2.0A, and CAN 2.0B
• DeviceNet data bytes filter support
• Standard and extended data frames (11-bit or 29-bit)
• Support for SAE J1939 protocol

Hardware Interface Options:
• Open Collector Outputs (5v/12v pullup)
• Opto-Isolated Inputs
• PWM Outputs
• 10-bit Analog Inputs
• Digital Inputs (TTL or Schmitt logic)
• Digital Outputs


System Capacity:
• Input Masks and Message Filters for greater efficiency
• Maximum throughput: 800 messages/second
Design services are available to fit most installations